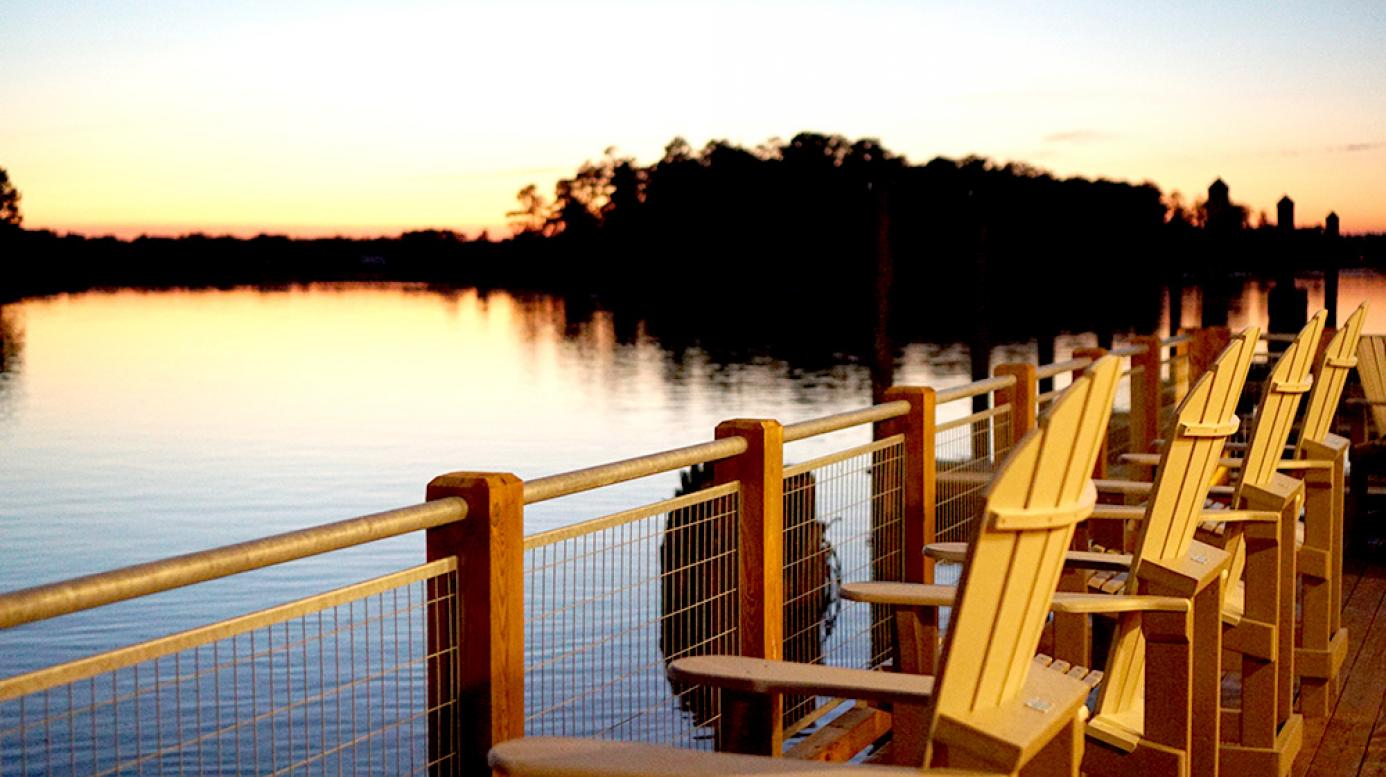 Many people dream of living along the water. If the idea of stepping out of your back door and into a boat for a day of fishing or sailing is too good for you to ignore, WeldenField & Rowe Custom Homes has something for everyone at Riverview at The Preserve. Living along the Elizabeth River is beautiful and serene, but did you know living on the water is better for your health, too?
Science Confirms It
Various studies have shown what many have believed for years: living near water and lush vegetation is better for your health. Modern life is extremely busy, noisy, and often exhausting. Coming home to rest and relax in a riverfront property is not only a fantastic way to end the day, it may also help you live longer.  Living near "blue spaces," or areas near water, switches the brain into a different mode that encourages creativity, resilience, and imagination. These effects can be profoundly restorative after a busy day in crowded urban areas.
Residents of Riverview at The Preserve enjoy easy access to Norfolk and Chesapeake for business, shopping, and various leisure activities, and then have the privilege of driving home to a secluded riverfront home in this beautiful gated community. Science shows living near water helps eliminate stress and mental fatigue, so what better way is there to unwind from a stressful, busy work day than enjoying the natural beauty of the Elizabeth River?
Something for Everyone
Any homebuyer will find something to love about Riverview at The Preserve. WeldenField & Rowe have built various maintenance-free townhomes with easy access to all of the community amenities. You can also design the custom, single-family riverfront home of your dreams. While you'll have seclusion and easy access to the Elizabeth River for your own enjoyment, you can explore the various community amenities such as lighted walking paths, fire pits, and benches along the riverbank.
If you own your own business or work from home, what better way to relax after a long day than surrounded by nature in a beautiful property along the Elizabeth River? If you commute to one of the metropolitan areas nearby for business, you can look forward to a rejuvenating ride home through one of the most scenic areas of the country. While the beautiful views and convenient location are great for the mind, living along the Elizabeth River can be fantastic for the body as well.
Proven Health Benefits
For those who enjoy walking through nature or exploring the waters of the Elizabeth River, the health benefits of outdoor activity have been well-known for years. Sitting in the sunshine produces Vitamin D, an essential nutrient that helps your body absorb calcium. Even the healthiest diets can easily be Vitamin D-deficient, as Vitamin D only occurs naturally in very few foods.
Sunlight also helps the body produce endorphins, the human body's natural pain reliever. People who suffer from chronic pains find that living near water eases their daily pain, and sunlight exposure more than likely plays a large role in this. Pain relief and stress relief often go hand in hand, so the extra endorphin production will also help you decompress after a stressful day.
Less stress and less pain mean a stronger immune system and improved mood, two staples of a long and healthy life. The salty air around the river is better for your breathing, as the negative ions in salty air help your body absorb oxygen more efficiently. All of these health benefits will come easy as you enjoy a beautiful home built by the experts at WeldenField & Rowe.
Get Outside and Get Moving
While there are fantastic health benefits for simply sitting in the shade by the river while enjoying a book, the great outdoors calls many Americans to active lifestyles. In addition to the walking paths and hiking trails in the area, exploring the Elizabeth River is easier with the unparalleled access afforded to residents of Riverview at The Preserve. The community pier and private docks at WeldenField & Rowe's custom-built riverfront properties offer easy access to boats and kayaks for a day on the water.
Exercise is essential for healthy living, and there's something for people of any activity level at Riverview at The Preserve. A riverfront property is the perfect incentive to get out and enjoy the outdoors, and the Elizabeth River offers countless opportunities to do just that. Reach out to us any time for information about Riverview at The Preserve, our building process, or anything else about living along the Elizabeth River.